After two years of development, we are thrilled to announce the launch of Breveto, a beautiful writing app for Mac!
You can use it for note-taking, writing, journaling, task lists, project planning, dev notes; you name it!
Staying Organized Has Never Been Easier
It's hard to stay organized when your notes get reordered whenever you edit a different one. Even worse, notes that have not been edited in a while get lost at the bottom, never to be seen again.
Breveto sets itself apart from other writing apps by using a file tree that allows you to effortlessly drag and drop files into place, where they remain precisely where you put them. Organize files into folders and even pin essential files to the top!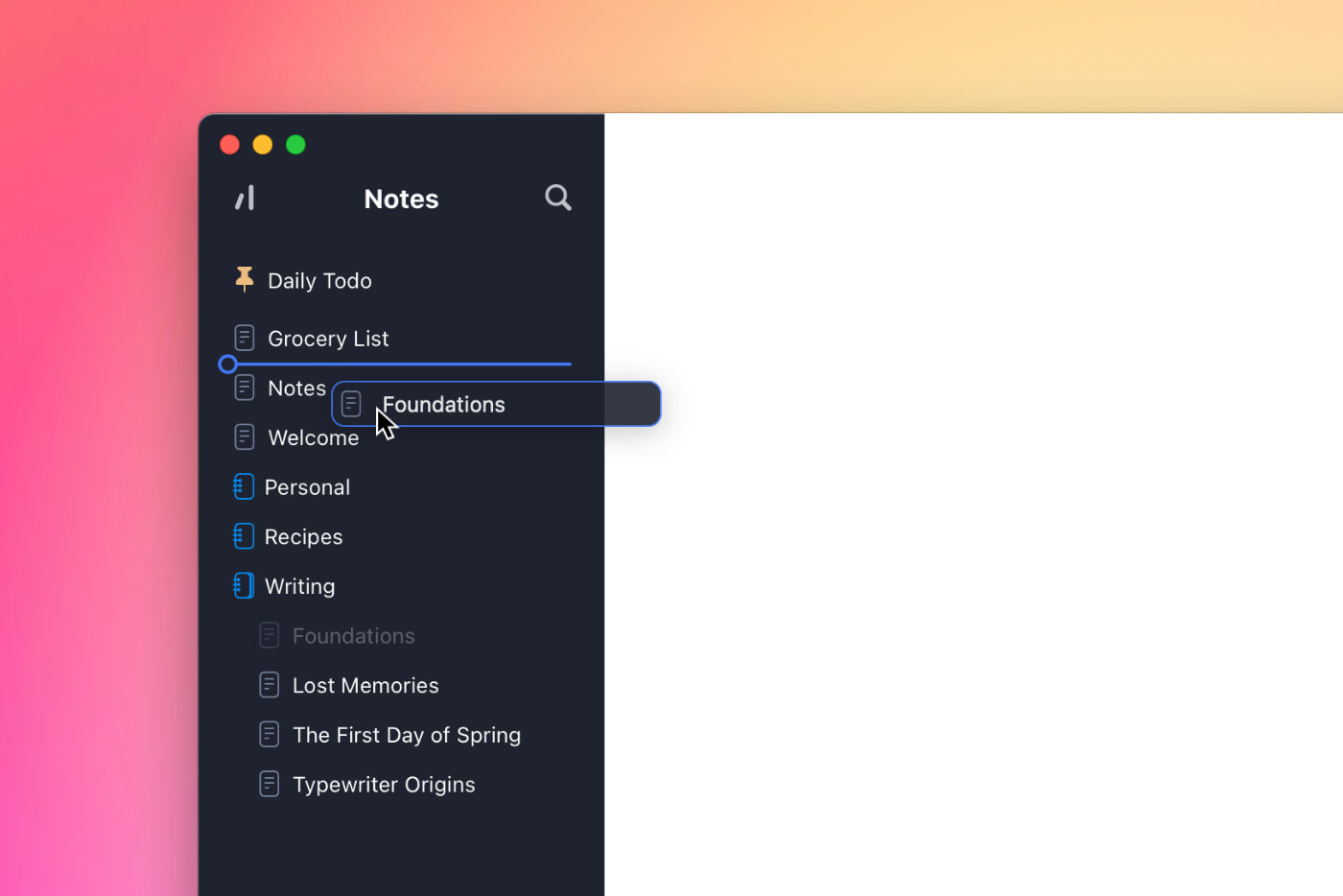 Locations
Different locations give you the freedom to store your files anywhere. Create a location in iCloud to sync them across all your Macs with conflict-free sync, or choose a folder and keep them locally on your computer. Use multiple locations as dedicated workspaces, such as personal and work. 
A Beautiful Editing Experience
Breveto provides an exceptional writing experience. Quickly format text with the inline format menu, effortlessly drag and drop images into your documents, and use markdown shortcuts to style text.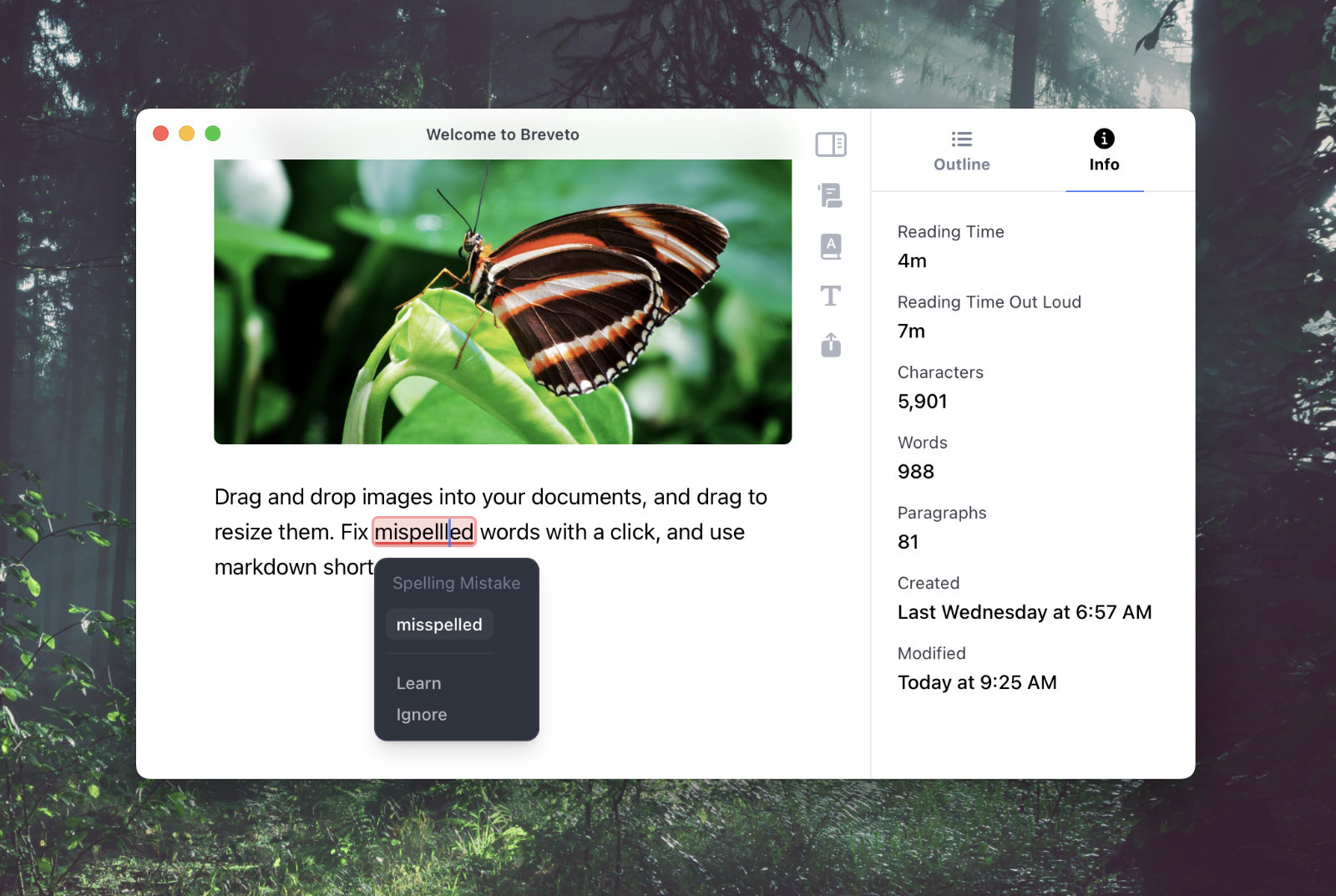 Delightful Themes or Create Your Own!
Choose from a range of stunning themes that change the look of Breveto. We wanted to give you the power to make it truly yours, so we added the ability to create your own themes and share them with your friends.
Built-In Dictionary
Breveto has a built-in dictionary that lets you find definitions, synonyms, and rhymes with one click. You'll never have to leave your work to look up a word again!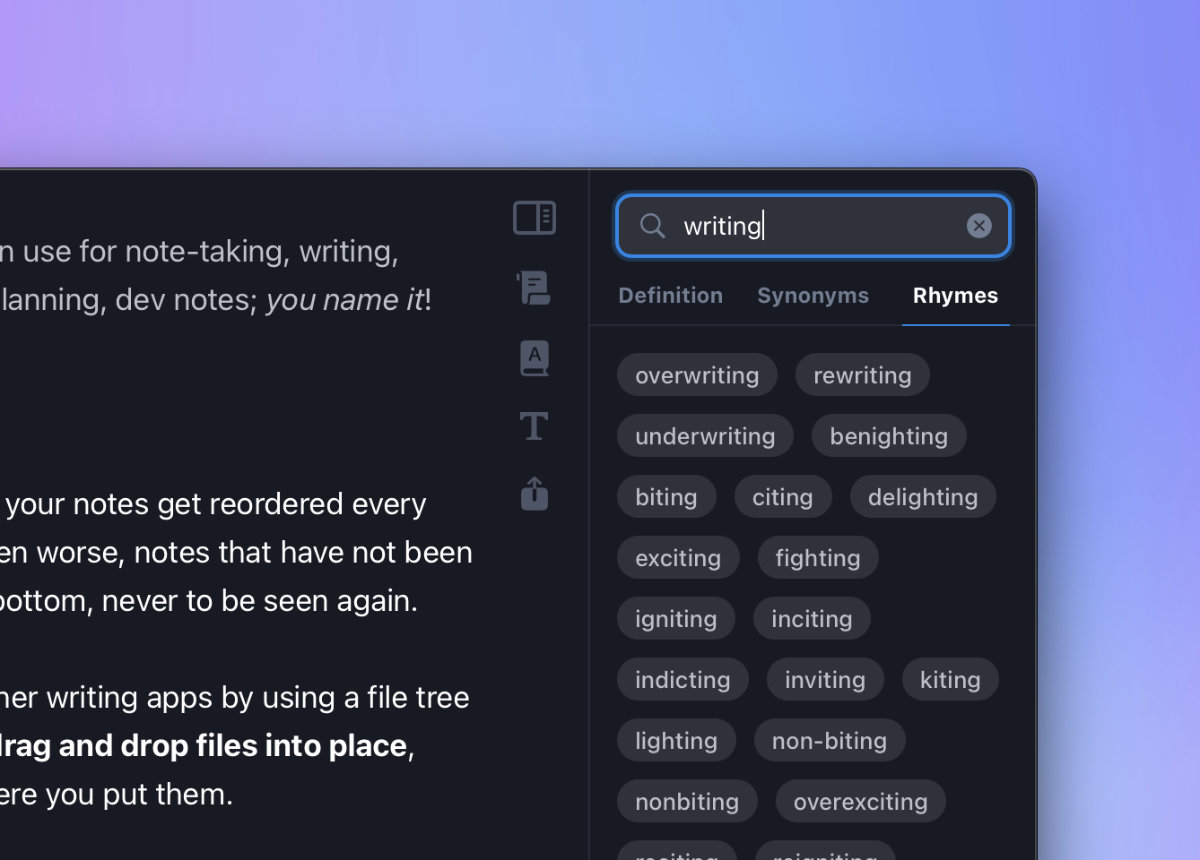 Focus Mode, Rhymes, and More!
Breveto offers a range of features that help you stay focused and productive. Focus mode provides an immersive, distraction-free writing experience. Document statistics let you keep track of reading time, character count, and more. You can also get an overview of your document with the outline and export files in various formats.
Breveto PRO
To get the full Breveto experience, upgrade to Breveto PRO. With PRO, you can create unlimited files and get access to all themes, the dictionary, and more. Plus, a single subscription unlocks Breveto across all your Macs.
We're delighted to offer an introductory discount! Get Breveto PRO 25% off for the first year for just $14.99!
Try Breveto Today
We intend to make Breveto the best in class; a premium writing experience that is both aesthetically pleasing and powerful, with an approach to organization that is intuitive and practical. And, we intend to make it available across all platforms including iOS. We're just getting started!
We are eager to hear your feedback and answer any questions you might have. Don't hesitate to get in touch!